The Data Science graduate program at UMBC prepares students to respond to the growing demand for professionals with data science knowledge, skills, and abilities. Our program brings together faculty from a wide range of fields who have a deep understanding of the real-world applications of data analytics. UMBC's Data Science programs prepare students to excel in data science roles through hands-on experience, rigorous academics, and access to a robust network of knowledgeable industry professionals.
These programs were designed with working professionals in mind and offer courses in the evening and online to accommodate students with full-time jobs. With two campuses in Baltimore and Rockville, students can choose the location that best suits their needs. UMBC offers a 10-course Data Science Master's program (M.P.S. in Data Science) as well as a 4-course post-baccalaureate certificate in Data Science.
For up-to-date information on how UMBC is responding to COVID-19, visit Retriever Ready: COVID-19 Response.
Through our program, students will develop an in-depth understanding of the basic computing principles behind data science, including data ingestion, curation, and cleaning.
Our unique program pathways allow students to apply the principles of data science to the analysis of problems across domains. Upon completion of their degree, students will be able to demonstrate the kind of practical, industry-relevant experience that employers are seeking.
At a Glance
Locations Offered
UMBC Campus (Catonsville)
Shady Grove (Rockville)
Average Completion Time
2 years (Master's part-time)
1 year (Certificate part-time)
Credit Hours
30 (Master's)
12 (Certificate)
---
Featured Events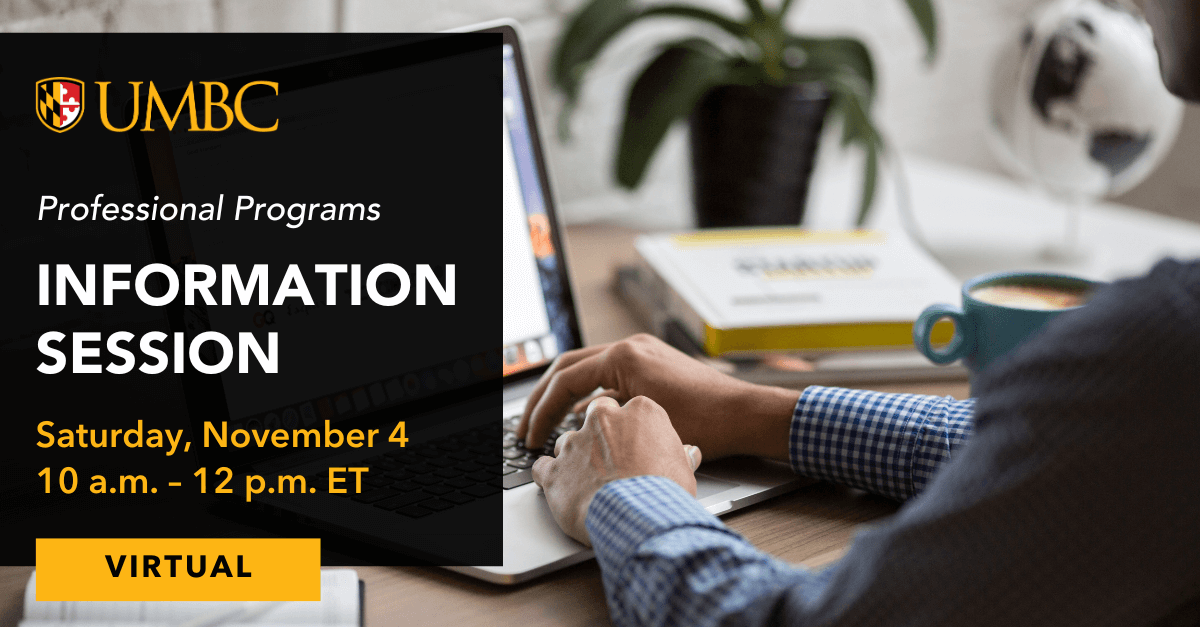 Professional Programs Virtual Information Session
Saturday, November 4 at 10:00 am
Join us for our upcoming virtual information session to explore how our professional programs can help you meet your goals, build your professional network, and equip you with the technical, leadership, and management skills that employers are looking for.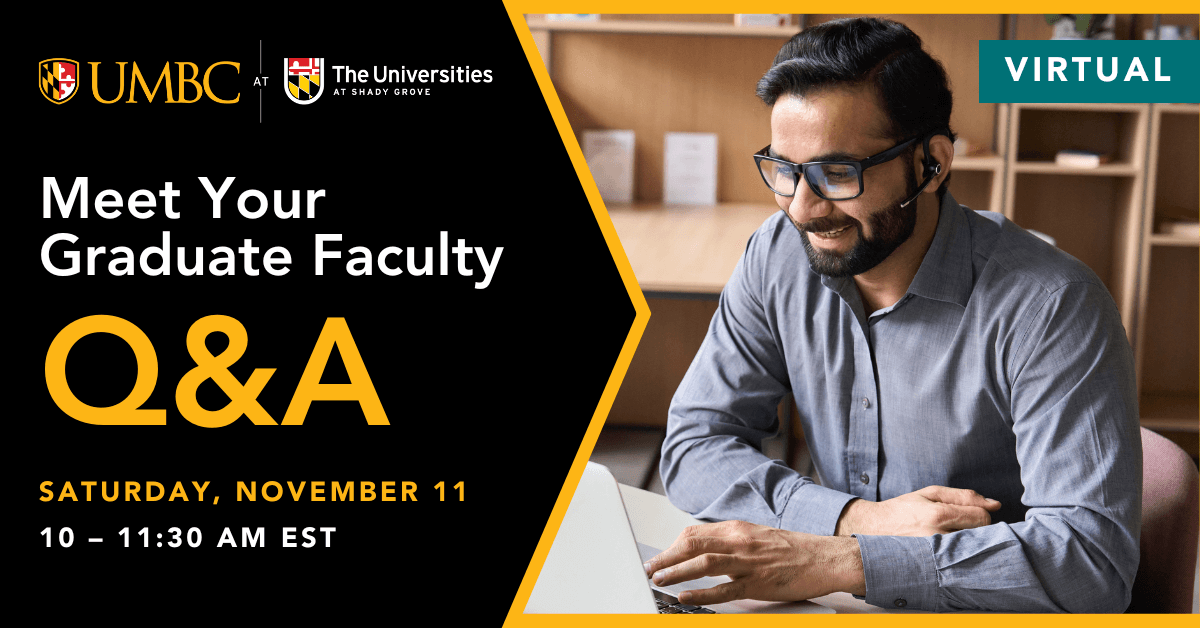 UMBC-Shady Grove Professional Programs Graduate Faculty Q&A – Virtual
Saturday, November 11 at 10:00 am
Join UMBC-Shady Grove Professional Programs for our upcoming virtual Q&A for a chance to ask our faculty members your questions about our programs!
Unable to attend? See our full event listing for more opportunities to connect with us!
We're here to help! Stay connected with us.
Sorry, an error occurred.
Featured Blog Post
---
Why Data Science at UMBC?
The Data Science graduate programs at UMBC prepare students from a wide range of disciplinary backgrounds for careers in data science. In the core courses, students will gain a thorough understanding of data science through classes that highlight machine learning, data analysis, data management, ethical and legal considerations, and more. There are many benefits to the Data Science graduate program at UMBC, including:
Our small classes provide a mix of in-person and online instruction, giving students the best of an in-classroom experience while allowing for work-school-life balance.
Two campus locations in Catonsville and Rockville offer convenience and proximity to the national job hubs of Downtown Baltimore and Washington, D.C.
As industry experts, our faculty combine their professional experience with theory to provide a rigorous and relevant classroom experience as well as valuable networking opportunities.
Organizations have a growing need for employees who are experts in the management and interpretation of big data. Our program prepares students for success in these highly in-demand jobs.
As a public university, we are able to offer a top-notch program that is affordable and accessible. Students living in select areas in the Mid Atlantic region may also qualify for our regional graduate tuition rate.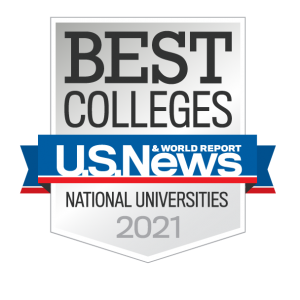 What Is an MPS Degree?
The MPS in Data Science is an industry-recognized credential. The program prepares students with the technical and management skills that they need to succeed in the workplace.
An MPS degree is designed to provide you with practical and applied knowledge in your area of study. While traditional master's programs tend to focus on theory and research, a Master's of Professional Studies will equip you with specialized skills and hands-on learning opportunities with a focus on career development.
Looking for more info?