Open to the public!
Dates: July 6, 2020 – August 12, 2020
Schedule: Every week on Monday and Wednesday
Times: 6:00pm – 9:00pm
Join UMBC faculty from multiple disciplines and guest speakers from across the biotechnology industry in this 6-week intensive course. Not a UMBC Biotechnology student? No problem! See below for registration details.
This course will examine the biological basis of pandemic, and how COVID-19 has informed our current approaches to relevant topics in biotechnology, such as technical development and regulatory and compliance, epidemiology, biosafety and biosecurity, data science, public health and policy considerations. We will also be examining the historical, ethical and public health perspectives that accompany pandemic.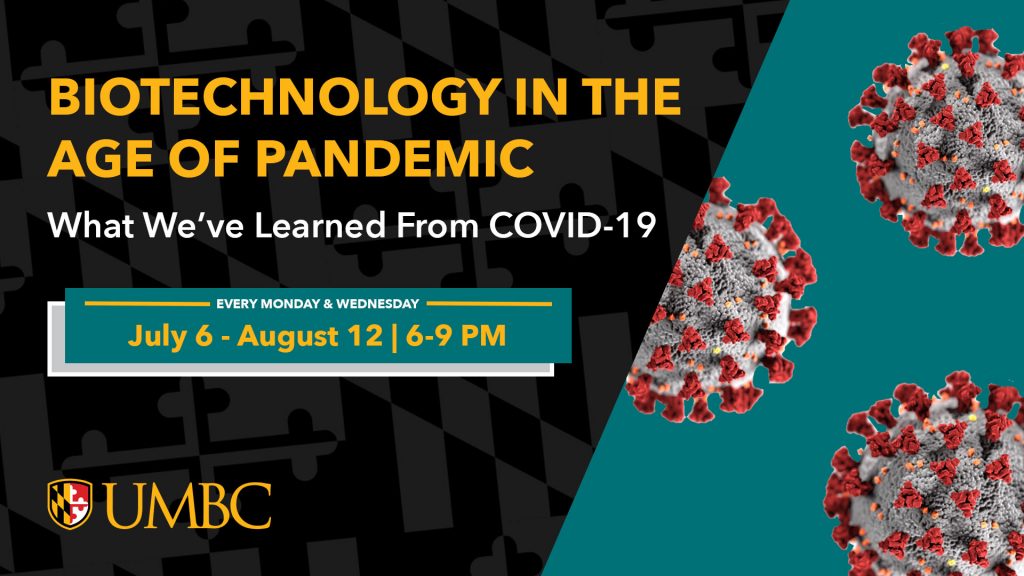 UMBC graduate students can take the course for credit. Due to the high-demand for the open sessions, non-credit registration is now free. If you are not a UMBC student an are interested in attending the classes, you can register for free by clicking here.
Course topics include:
A Brief History of Contagion
Biological Basics of Contagion Innovation
Epidemiology and the Informing of Development
Regulatory Issues in a Time of Pandemic
Biosecurity and Biosafety
Clinical Trials in a Pandemic Environment
Data Science and Contagion
Data, Privacy, and Surveillance
Public Health and Policy Considerations During Pandemic
Medical Ethics of Contagion
Free speaker sessions:
Interested in attending but don't need credit? The courses are now open to the public. Sign up to get updates on the free sessions. Selected speaker sessions include:
July 13, 6:00 PM
Epidemiology and the Informing of Development
Dr. Allison St. John, Department of Defense
July 20th, 6:00 PM
Supply Chain Vulnerabilities and Analytics
Farah Towfic, PharmD and Vimala Raghavendran, MBA from US Pharmacopeia
July 27, 6:00 PM
Regulatory changes made in response to COVID-19, and the future of regulatory change
Ms. Dvorah Richman, Regulatory Attorney, and former Vice President, Chief Regulatory Counsel, Siemens Healthineers
For more information contact Biotechnology Program Director, Connie Dudley cdudley@umbc.edu