The Geographic Information Systems (GIS) Program at UMBC offers a Master of Professional Studies in GIS and a Post-Baccalaureate Certificate in GIS. UMBC's GIS program is unique in its focus on applying critical GIS to improve the lives of people, society, and the environment. Students will gain the knowledge and technical skills for careers involving geographical analysis and programming, suited for professionals who need to solve complex issues using GIS.
In our program, you will learn the foundational principles underlying GIS, as well as apply methods to build your critical GIS abilities. When you complete the program, you will be able to methodologically address challenging spatial problems by:
Developing cartographic products suitable for publication in any venue.
Programming software with modern programming languages and tools.
Creating dynamic visualizations that adhere to graphic excellence principles.
Creating and managing geographic and non-geographic data to create high quality.
Analyzing geographic data underpinned by spatial theories and concepts.
For up-to-date information on how UMBC is responding to COVID-19, visit Retriever Ready: COVID-19 Response.
At a Glance
Delivery

In-person
Locations Offered
UMBC Campus (Catonsville)
Average Completion Time
3 years (Master's part-time)
1.5 years (Certificate part-time)
Credit Hours
30 (Master's)
18 (Certificate)
Why Geographic Information Systems?
Geographical Information Science is one of the fastest expanding areas in information technology.
With an estimated growth rate of 35-40 percent per year, the GIS job market is in need of qualified and experienced professionals to help design, implement, operate and manage geographic information systems.
A background and knowledge base in GIS can work in a variety of fields including energy, public health, urban planning, civil engineering, environmental science, archaeology and landscape architecture.
---
Featured Event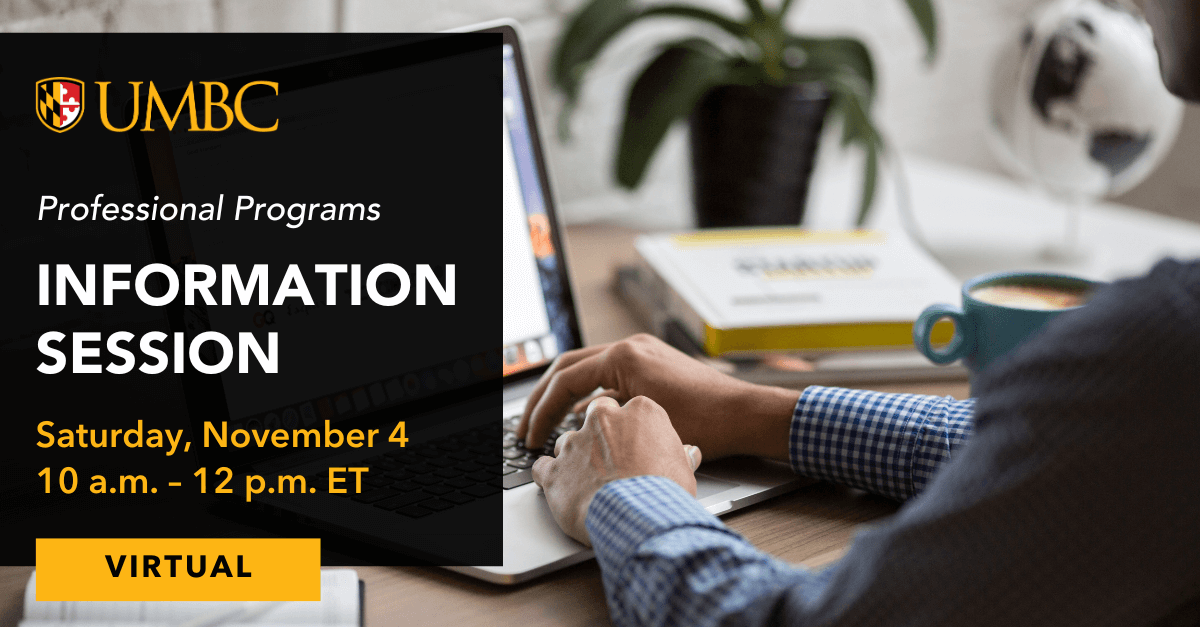 Professional Programs Virtual Information Session
Saturday, November 4
Join us for our upcoming virtual information session to explore how our professional programs can help you meet your goals, build your professional network, and equip you with the technical, leadership, and management skills that employers are looking for.
See our full event listing for more opportunities to connect with us!
We're here to help! Stay connected with us.
What Is an MPS Degree?
An MPS degree is a non-thesis graduate degree designed to provide you with applied and professional knowledge in your area of study. While traditional Master's programs tend to focus on theory and research, a Master's of Professional Studies will equip you with specialized domain knowledge and hands-on learning opportunities that focus on developing one's career. Our MPS programs are designed with your career goals in mind!