Spring 2022
Semester Dates: January 31, 2022 to May 17, 2022
Last Day to Add/Drop a Class: Friday, February 11, 2022
Graduate Commencement: Wednesday, May 25, 2022
View Full Spring Academic Calendar
View the Spring 2022 Schedule of Classes
Summer 2022
Schedule of Classes Published: Tuesday, January 25, 2022
Registration Begins: Tuesday, March 1, 2022
Session I Begins*: Tuesday, May 31, 2022
Session II Begins: Monday, July 11, 2022
View Full Summer Academic Calendar
*Note: Summer Session dates vary by the length of the course.
View the Summer 2022 Schedule of Classes
Fall 2022
Schedule of Classes Published: Monday, March 28, 2022
Advanced Registration Begins: Monday, April 4, 2022
Registration for Newly Admitted Students Begins: Wednesday, June 1, 2022
Non-Degree Registration Begins: Wednesday, August 24, 2022
Semester Dates: August 31, 2022 to December 13, 2022
Last Day to Add/Drop a Class: Wednesday, September 14, 2022
View Full Fall Academic Calendar
Featured Event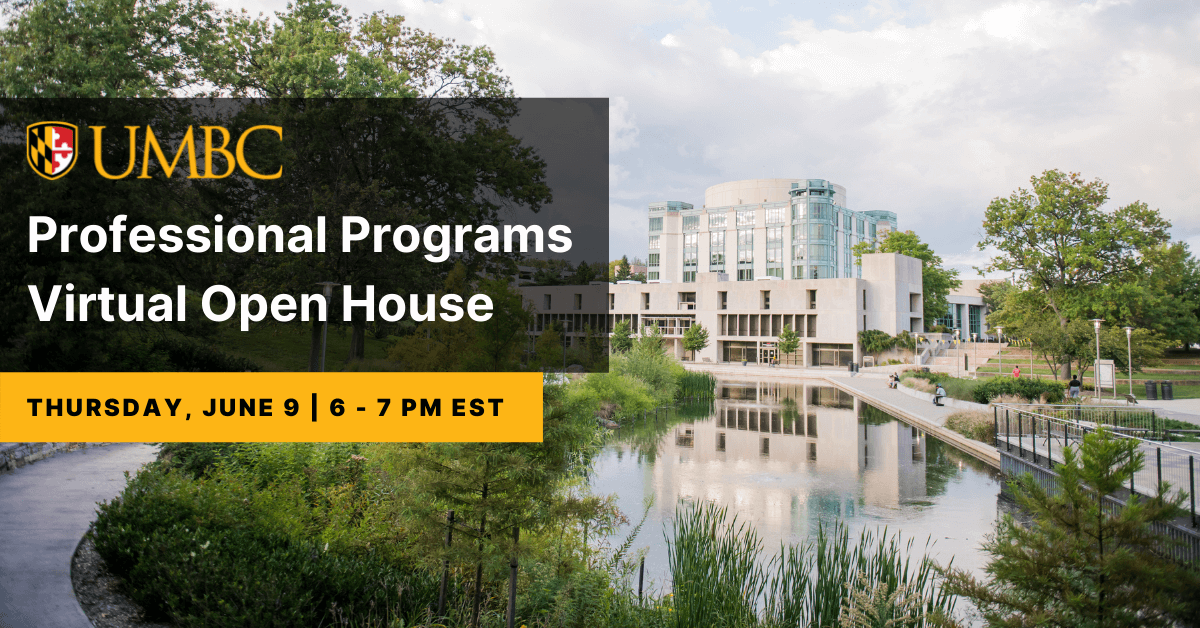 Professional Programs Open House
Thursday, June 9
Whether you're considering a career change or you need a respected professional credential to transition into a management role, UMBC's Professional Graduate Programs will help you achieve the career of your dreams.
See our full event listing for more opportunities to connect with us!
At a Glance
Locations Offered
Programs Offered
Average Completion Time
2.5 years (Master's part-time)
1 year (Certificate part-time)
Credit Hours
30 (Master's)
15 (Certificate)
Tuition & Fees
Start Date