The Certificate provides students with a strong academic foundation in Community Leadership, reflective writing exercises and class discussions, and two immersive experiences working with community partners. Students may apply certificate course credits to the Masters of Professional Students in Community Leadership. To complete the Post-Baccalaureate Certificate in Community Leadership, students must complete 4 courses for a total of 15 credits.

The Community Leadership program includes core courses that provide a broad understanding of the leadership, ethical and quantitative skills needed to excel as a community leader. Upon completing the core, students can take courses in the critical topics of policy, race/gender/class, non-profits, urban studies, and social entrepreneurship.
Required Courses
CLDR 601: Introduction to Community Leadership – Contexts, Models, and Communication
This Introduction to Community Leadership course is the foundational class for the Certificate and MPS in Community Leadership, grounding students in key concepts, skills, and experiences that they will continue to build upon throughout their graduate program and professional development. Students learn the theory and practice of establishing an inclusive learning community with attention to developing leadership skills of self-reflection, deep listening, and facilitation.

Thematic course units investigate core program elements including: (1) Social contexts of community leadership with special attention to urban settings, historical and structural inequity, and asset-based development. (2) Models and metaphors for community leadership, including attention to diverse theoretical and practice-based approaches to leadership with opportunities to explore leaders' identities and personal strengths. (3) The central role of diverse media platforms and approaches to communication that underpin effective community leadership practice.

In addition to class readings, written reflections, and discussions, students will participate in community experiences to complement their classroom learning. Students will develop a relationship with a community leader and corresponding partner organization. Through regular semi-structured conversations, they'll have the opportunity to learn and discuss core elements of community leadership. Students will work with community partners to collaboratively design a project that will contribute directly to a need in their partner organization. At the end of this first foundational course for the MPS, students will also create a template for their overall MPS digital portfolio, designing a compelling media platform for planning and demonstrating their best learning and development as they move forward. 


SOCY 600 or PUBL 600: Research Methodology
This course is designed to advance graduate students' knowledge of the modes of inquiry in the social sciences and to familiarize them with research methods and techniques.
SOCY 606: Social Inequality & Social Policy
This course examines poverty and inequality in modern society. The focus is on describing the extent of poverty and inequality, examining theories that attempt to explain these phenomena and discussing the policies that have been employed to mitigate them. In addition to class inequality, the course will consider racial and gender inequality.

CLDR 603: Capstone Seminar and Project
This interdisciplinary capstone course provides participants with a culminating experience in the theory and practice of collaborative leadership, community-centered social capital development, and culturally-inclusive problem solving. The course immerses students in the theories, knowledge, skills, and affective competencies related to building community assets. A key focus of the course is strengthening students' capacities to assess and address community problems. The course builds on students' prior courses in the Community Leadership curriculum to provide a field-level application of their diverse leadership tool kits. 

In addition to class readings, written reflections, group discussions, conversations with guest speakers, and visits to different neighborhoods in Baltimore City, students participate in a collaborative community-based research project. Students work in conjunction with a local community partner organization and an instructor to: (1) explore key issues facing a specific community and organization, and identify a particular topic to focus on;  (2) develop and deliver a research-based intellectual product that enhances the student's professional development as well as the capacities of the community and partner organization. This is a 6-credit course.
We're here to help! Stay connected with us.
Featured Event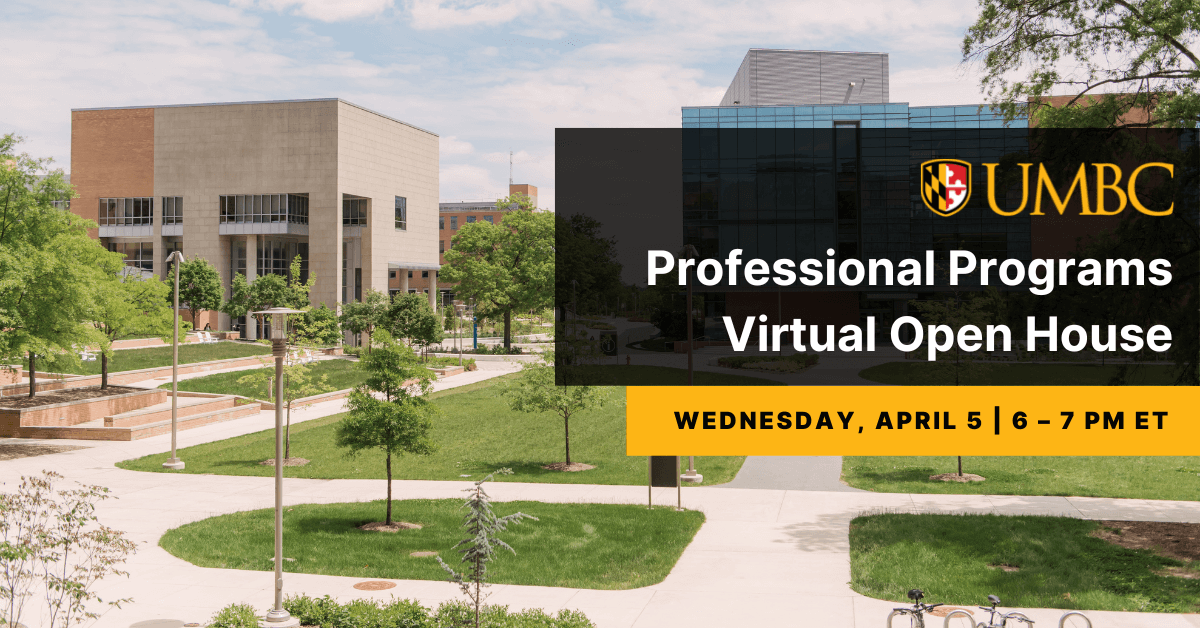 Professional Programs Open House
Wednesday, April 5
Whether you're considering a career change or you need a respected professional credential to transition into a management role, UMBC's Professional Graduate Programs will help you achieve the career of your dreams. 
See our full event listing for more opportunities to connect with us!
Looking for more info?