Welcome to UMBC's Graduate Cybersecurity Program!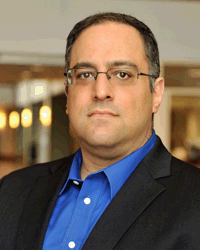 As the world continues growing more interconnected and dependent on the Internet and other networked technologies, our ability to maintain the security, stability, assurance, and resiliency of this critical information environment – including the safety and security of our own data – is challenged regularly. Accomplishing this goal, and fulfilling a critical need for our nation, requires professionals that are knowledgeable about these concerns and can apply that knowledge effectively and proactively to reach that objective in ways that extend far beyond the "bits and bytes" of cyberspace.
In meeting this challenge, UMBC's Graduate Cybersecurity Program reflects the nature of the modern cybersecurity environment by taking an interdisciplinary approach to cybersecurity education. For master's degree students, the curriculum includes courses both on cybersecurity topics and ways to put that knowledge into practice as leaders or practitioners in the cyber domain. From there, master's degree students can select a variety of technical or non-technical electives to meet their particular educational or professional needs. By contrast, our post-baccalaureate certificate program is a four-course sequence that provides a broad academic exposure to assorted cyber-related topics for students not necessarily seeking a full graduate degree in the field.
However, education at UMBC begins, not ends, in the classroom. While successfully completing your studies is the primary goal as a student, you may also consider contributing to cybersecurity research efforts at our Cyber Defense Lab, joining our intercollegiate cyber-defense competition team, taking advantage of professional opportunities and resources provided by our Career Services Center, or participating in other activities and opportunities that can help you reach your desired academic and professional goals.
I encourage you to explore our academic program offerings and contact us with any questions. 'Cyber' is a prominent and expanding industry both in Maryland and across the globe — and we look forward to helping advance your career in this exciting field!
Cordially,
Dr. Richard F. Forno
Director, UMBC Graduate Cybersecurity Program
Assistant Director, UMBC Center for Cybersecurity