International Student Q & A: Biotechnology
Wednesday, May 26, 2021
@
9:00 am
–
10:00 am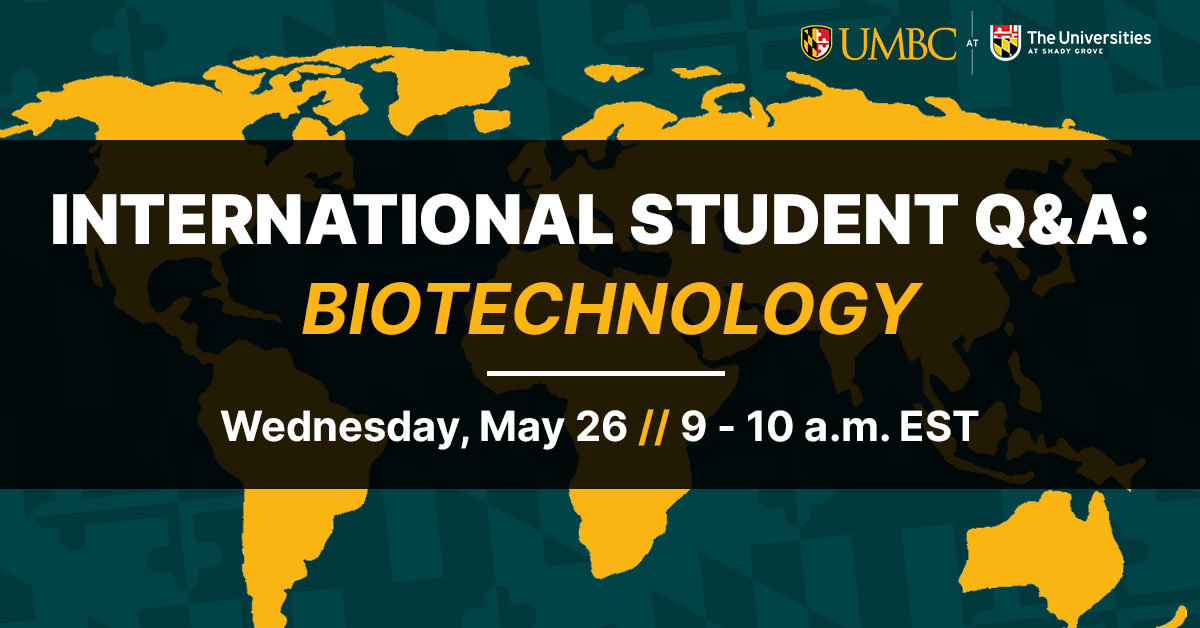 If you are an international student who is considering UMBC's Biotechnology Graduate Program, join us on Wednesday, May 26 at 9:00 A.M. (EST) for an International Student Q & A for admitted and prospective Biotechnology students!
During this virtual session, representatives from UMBC's Center for Global Engagement, Biotechnology Graduate Program, and UMBC-Shady Grove will be available to answer your questions about the program, obtaining immigration documents and procedures, and the international student experience at UMBC.
If you are a prospective international student who is unable to attend this Q & A session, or a U.S. based student who is interested in learning more about this program, be sure to check back soon to register for the Biotechnology session during the Shady Grove Professional Programs Open House on Tuesday, June 15th!
Questions?
UMBC is committed to inclusivity and accessibility. If you are in need of any accommodations or any other assistance, please contact Karina Jenkins, Shady Grove Graduate Program Manager as soon as possible. *Please note that automated closed captioning is available via WebEx Assistant through UMBC's WebEx Meetings platform.
RSVP for the Q & A
Sorry, we're having a technical issue.
Try refreshing the page. If the problem persists, please check our status page at status.formassembly.com or email us at support@formassembly.com
Thank you for your patience.
Diagnostic information: FA_LB_ERR_BH
Event Categories:
Related Events