Most every driven professional comes to the same conclusion when it comes to learning, it must always be present. Life, as well as business, is steeped in the promise of change, a catalyst to learning. In fact, most everyone at a certain point realizes that change is necessary. Shahwar Amin '22, Learning and Performance Technology, realized this early on and has never looked back.
"I found my passion in instructional design, and I'm so happy I did. It's a very good thing to do something that you really enjoy. And this program helped me gather the right tools to do it well. Studying instructional design at UMBC was a very positive experience for me. I feel refreshed now, and feel I want to start all over again!"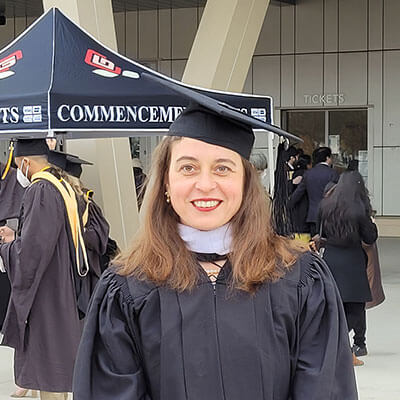 Listen to what this UMBC Graduate has to say!
Listen on your favorite podcast player.
About UMBC's Graduate Programs in Learning and Performance Technology
Learning and Performance Technology (formerly ISD) is one of UMBC's most established graduate programs. Our online certificate and Master's programs provide an innovative and engaging curriculum. We offer all courses in an online format to accommodate the schedules of busy working professionals. If you are interested in designing, delivering, supporting, and measuring training, learning, and performance within organizations the LAPT graduate program at UMBC will prepare you to claim your future.