Summer 2021 UMBC Campus Professional Programs Open House
Tuesday, June 8, 2021
@
6:00 pm
–
7:00 pm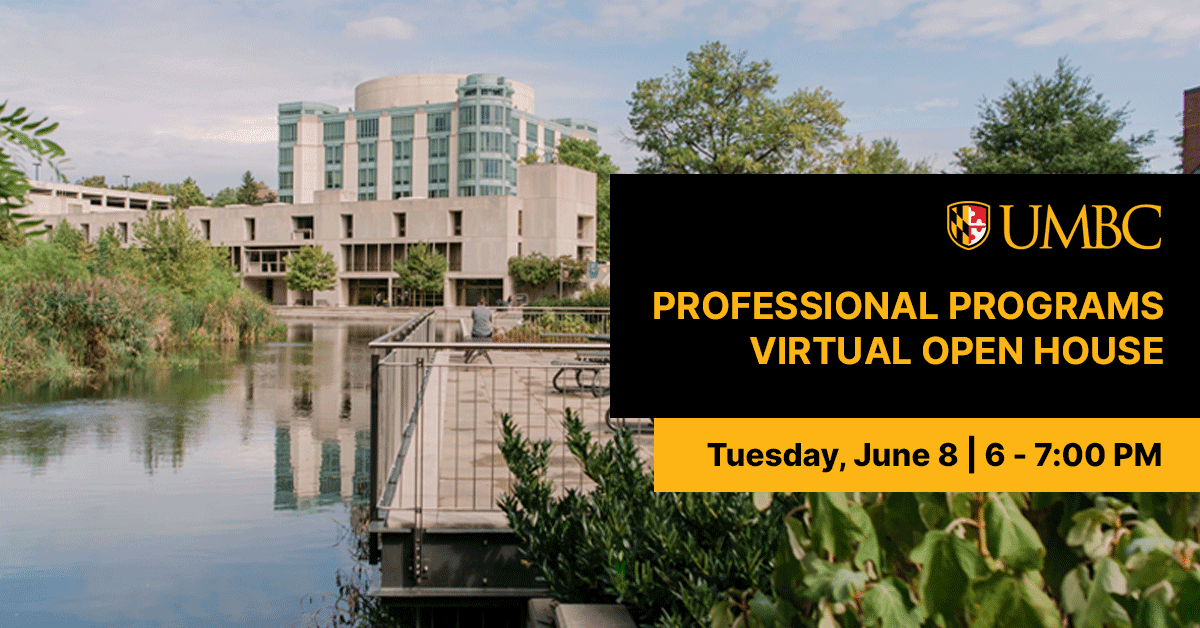 Whether you're considering a career change or you need a respected professional credential to transition into a management role, UMBC's Professional Graduate Programs will help you achieve the career of your dreams.
Join us for our upcoming virtual Open House on June 8 to explore how our professional programs can help you meet your goals, build your professional network, and equip you with the technical, leadership, and management skills that employers are looking for. You'll have the opportunity to meet with faculty and staff, gain information on financial aid and career opportunities, and find out why UMBC is the perfect place to expand your education.
We offer a wide variety of part-time and full-time professional programs in an array of relevant fields, including graduate programs in Community Leadership, College Teaching and Learning Science, Cybersecurity, Data Science, Engineering Management, Entrepreneurship, Innovation and Leadership, Health Information Technology, Integrated Product Development & Manufacturing, Learning & Performance Technology, Project Management, Software Engineering, Systems Engineering, and Technical Management. Our programs are designed to meet the needs of working professionals and our flexible course offerings allow you to complete your degree on your own time.
All sessions will be held virtually on Tuesday, June 8 from 6:00 to 7:00 PM using the WebEx platform or by joining via telephone. More details will be sent to registered attendees closer to the event.
Questions?
UMBC is committed to inclusivity and accessibility. If you are in need of any accommodations or any other assistance, please contact professionals@umbc.edu as soon as possible. *Please note that automated closed captioning is available via WebEx Assistant through UMBC's WebEx Meetings platform.
Registration for this event has closed.
Related Events
Event Categories:
College Teaching & Learning Science, Community Leadership, Cybersecurity, Data Science, Dual Campus, Engineering Management, Entrepreneurship, Innovation, and Leadership, Health Information Technology, Integrated Product Development & Manufacturing, Learning & Performance Technology, Open House, Project Management, Prospective Students, Software Engineering, Systems Engineering, Technical Management, UMBC Campus